This is a presentation about Vembu disaster recovery. I setup this one between two sites separated by 300 km. On one site I installed VembuBDR and the other VembuOffsiteDR on Windows 2012 R2 for each one.
Requirement :
– Install windows server with Vembu BDR for one and Vembu Offsite DR on other one.
– You need open port 32004 on site with Vembu OffsiteDR to connect your VembuBDR
You can try Vembu OffsiteDR for 30 days. After that, you need pay a licence. Please see this link to show pricing and details : https://www.vembu.com/vembu-bdr-suite-pricing/
Configuration :
Vembu is a very great tool for Backup. Because it's very easy to use and setup as well. And it's cheap product.
First, go to management tab from your VembuBDR server.


Then, active offsite Backup. Select "My Own Data Center" and add a host with button "+" in section "Configured DR Location" as well.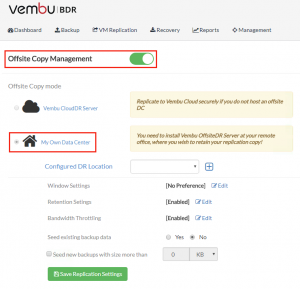 When you click on button "+" to add a new host, you can test the connection.

Next, if everything is fine. Click on "Add OffsiteDR server" and select your server just added in the menu.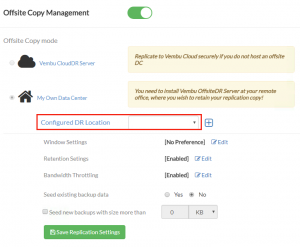 You can setup some features useful before click on Save button.
Finally, your replication is ready. You can see on your dashboard if your replication is in progress from your VembuBDR or VembuOffsiteDR.
From your Vembu OffsiteDR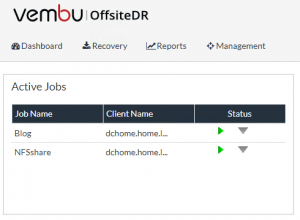 From your VembuBDR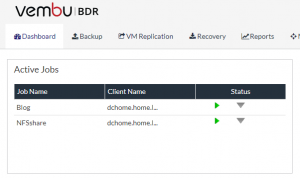 Have fun !!